Boston Event
Besides Your Host Lillie Marshall, All-Star Panelists Include:
Amanda Pressner
is the famous co-author of
"The Lost Girls"
website and memoir about three NYC professionals who quit their jobs to travel around the world.
Amanda is a travel and lifestyle journalist and has served as Senior Nutrition Editor at Shape magazine and assistant editor at Self.
She has contributed to national publications, including USA Today, Travel + Leisure, Marie Claire, Cosmopolitan, Fitness, Prevention, Woman's Day, First for Women, Seventeen. and Brides. She is a native of Tampa, Florida.
Stever Robbins
is the wildly popular "
Get-it-Done Guy
" whose weekly podcast is
on
"working less and doing more." He will explain how we actually DO have time and money to travel, even when it seems we don't.
Stever's podcast gets 80,000 downloads on iTunes each week, making it #1 in the iTunes Business section and #20 overall… and his first major book,

Get-it-Done Guy's 9 Steps to Work Less and Do More,

will be released the day of "Meet Plan Go."
A few lucky participants will even win a free copy of the book!
Bob Riel
is the author of the travel memoir,
"Two Laps Around the World"
and the website
Travels in the Reil World
.
As the title of his book suggests, Bob has taken not one but TWO journeys around the earth, both with his wife, during career-break sabbaticals.
Bob does extensive work in cross-cultural business consulting, as well as continuing to write and plan travels… now with children! Bob is a Rhode Island native and Boston College graduate who currently lives in Arizona with his wife and two children.
Jessica McHugh and Tim McGregor
write for
HedgehogsWithoutBorders.com
, a popular travel website where they share their impressions about different countries. Neither of them had much travel experience before 2005 when they quit their jobs, sold everything they owned, and bought one-way tickets to Buenos Aires. They traveled for the next 18 months! Today they continue to follow their dreams around the world, enjoy sharing stories about their travels together, and hope to inspire others to travel.
Rob Verger
is a freelance writer whose stories focus on travel and books. His travel articles, interviews, and book reviews have appeared in
The Boston Globe
, and his feature stories, blog items, and audio slideshows graced the Travel Channel's website, World Hum. Rob is a former writing instructor at Columbia University, where he received an MFA in nonfiction writing. His writing and photography have featured the pacific island of Pohnpei, favelas of Rio de Janeiro, India, and more.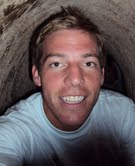 Ryan Larkin first traveled abroad when he went on an Alternative Spring Break trip to Canto Grande, Peru with 20 other students to help rebuild a school in dire need of repair. This experience sparked his passion for travel and led him to a career at EF Educational Tours. Ryan worked at EF for 7 years, taking to teachers about the transformative effects of travel on young adults. Ryan has been to over 30 countries around the world and lived in Australia twice. His most recent trip was with Edge of Seven volunteers, where he helped build a school in Nepal.
David Kramer
moved to Colombia, South America, where he met his wife, and has traveled all over Latin America. David now works for EcoLogic, a nonprofit working on Ecology in Mesoamerica. He is currently starting a program called "TallShort Adventures" with his Colombian-American brother-in-law, which will help take travelers to Colombia.
Maria Giurcan runs the website Vegan World Trekker, which explores vegan cuisine around the world, through her own travels and through interviews with other prominent world voyagers. Maria will be on hand to discuss the joys and challenges of finding specific types of food abroad, and can even give tips on vegan clothes and travel gear.
STA Travel
is one of the largest travel agencies for young adults, students, teachers, and career-break travelers in the world.

STA agents will be on hand with advice on RTW tickets, insurance…and FREE giveaways!
BOSTON RECAPS
Vegan World Travel: Meet, Plan, Go Travel Conference Highlights
Away She Goes: Meet, Plan, Go! Boston
The All-Star panelists for the Boston Meet Plan Go Event above will totally inspire you and give you guidance as you consider taking a break and traveling independently for a period of time longer than a few weeks. I co-founded BootsnAll in 1998 after I took a year-long trip as a young man with this thought…the best part of travel is the people that you meet, both travelers and locals alike. Meet Plan Go Boston is doing this big time. We are proud to be associated with them. Check out our deals from Boston, our RTW Air Tickets, and sign-up for daily travel inspiration.

Sean E. Keener – Co-Founder of the BootsnAll Travel Network